Washington & Washington, Inc.
Time Saved, is Money Earned
CHANGING THE WAY THE WORLD BUYS AUTOMOBILES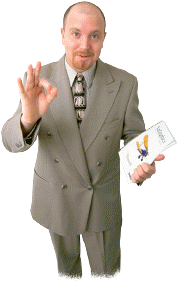 F.A.Q.
Do I need a lot of money to start?
No. A telephone, some business cars and an adding machine are all you need to start this business.
Can I start this as a part-time job then work up to full-time?
Yes. You can start this business as slow or fast as you like. Good money can be earned on a part-time basis. Your current source of income won't be interrupted. Your mortgage payments will not be threatened.
Is this product in great demand?
Every driver in America needs a car. Companies and institutions of all kinds need cars, vans and trucks. You will be able to provide any make or model vehicle your client wants.
Is there any financial risk or responsibilities?
No. You won't have a to hock the family farm or risk the homestead to be in this business. All deals will be non-recourse to you, which means if the client doesn't make payment to the bank, you are NOT held responsible.
Will I have repeat business?
Yes. Once your financial institutions are secured, you can sit back and fill orders! Also, you will get referrals from friends, relatives and business contacts of your clients. The replacement of these cars and trucks as they age and are ready to be traded in becomes your repeat business.
Do I need employees?
NO.
YOU HAVE READ SOME OF THE MAIN REASONS WHY THIS IS THE PERFECT BUSINESS FOR YOU!